Blood Suckers Slot
Blood Suckers Slot out now at 32Red Casino!
If you're garlic adverse, have a tendency to slather on factor 80 sunscreen or not that hot about being impaled on a wooden spike, this slot could be just for you. This 2013 release from NetEnt is a video slot romp through the world of the undead and back again.
Fill a vial with holy water, pocket your bible, and grab something pointy, we're going Vampire hunting across a 5x3 grid.
A History
The earliest recorded use of the word 'vampire' was discovered in 1688. Accompanied by a lack of explanation, this suggests the word was in common usage. While many believe Bram Stoker created the vampire myth, he only popularised vampires with his 1897 novel 'Dracula'.
In fact, the first complete work of fiction is commonly believed to have arisen from the pen of Lord Byron with 'Vampyre' in 1819. Honcho vampire, Dracula is also a major character in the world of movies and TV, making more appearances than every fictional character ever - besides Sherlock Holmes.
Nosferatu (1922) is one of the most famous depictions of vampires in early cinema, taking on a German Expressionist guise. Other notable outings include Dracula (1931) starring Béla Lugosi, Dracula (1958) with Christoper Lee (that spawned a total of seven sequels), and Bram Stoker's Dracula (1992) directed by Francis Ford Coppola.
Count Duckula (1988) was a smash hit children's animated series produced by Cosgrove Hall Films that ran until 1993. The original Count Duckula first made his appearance in Danger Mouse (1981).
The latter half of the twentieth century saw multi-volume vampire epics become popular as proved by the popularity of Anne Rice's Vampire Chronicles (1976 to 2003) and Stephanie Meyer's Twilight (2005 - 2008) series.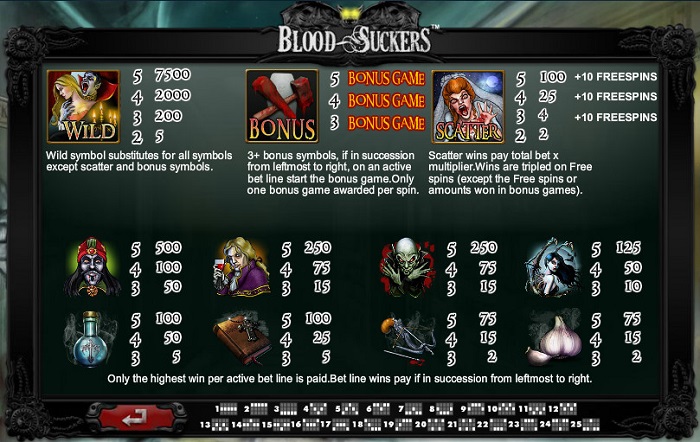 Free Spins
With the musical set to 'super spooky' and a bat-infested enclave clearing your path, it can mean only one thing - you've entered the Blood Suckers 'Blood Rose' free spins round.
Land three or more scatters anywhere on the reels when playing Blood Suckers and you'll unearth the free spins round. During the free spins round, all wins are multiplied 3x, minus any additional free spins.
Graphics & Audio
Digging deep from a rich cultural resource, NetEnt once again proves itself to have one of the finest graphic design teams in the slot production netherworld. Even for a release that's slightly long in the tooth, Blood Suckers does not disappoint.
Tongue-in-cheek horror meets stylised gore as Blood Suckers draws visually from the cinematic bloodline of The Rocky Horror Picture Show. That's not to say Blood Suckers is graphically derivative and holds its own with vampirical reimaginings that appear as if a Roswell-style extraterrestrial has been thrown into the graphics engine.
While the symbol characters are incredibly well realised, there's slightly too much detail in the illustrations and a more iconic design approach would have better served the reels. The research that's gone into Blood Sucker slot's design is superb. With graphic nods to some of the better-known characters found across the genre, this is a must for any diehard vampire fan.
Audio accompanies the eye-popping graphics with minimal flare and provides an environment that's creepy enough for a kid's Halloween party but won't be giving anyone nightmares soon.
Symbols
Vampirical visual tropes are apparent in all their graphic glory and go like this:
Wild – five on a payline awards a win of 133.3x
Scatter – five on a payline awards a win of 100x
Black Sheep – five on a payline awards a win of 66.6x
White Sheep – five on a payline awards a win of 53.3x
Barnyard – five on a payline awards a win of 40x
BAR – five on a payline awards a win of 33.3x
Watermelon – five on a payline awards a win of 10x
Apple – five on a payline awards a win of 8x
Orange – five on a payline awards a win of 6x
Aubergine – five on a payline awards a win of 4.6x
Corn – five on a payline awards a win of 2.6x.
Bonus Features
Looking for a Blood Suckers slot bonus round? Steeped in mystery and mayhem, you might have the luck of encountering the following bonuses.
Hidden Treasure Bonus Game
Spin 3+ bonus symbols on consecutive reels and you'll be welcomed into the dubious delights of the Hidden Treasure bonus game, based on the premise of Dracula's bride collecting ancestral relics.
A pick-and-click game mechanic invites you to jab a spike into coffins occupied by festering corpses, naturally. During the Hidden Treasure bonus game, you'll encounter the following symbols:
  [[custom-data key="point2"]Coin amount with key - coin prize + entry into the next bonus level. If you discover the key during the final level, you're granted a 1,000x multiplier   [[custom-data key="point3"]Count Orlok - land this dodgy-looking chap and say sayonara to the bonus round
Bloodsuckers slots also triggers bonuses at random. These can happen at any moment during gameplay, so hold on to your seat.
  [[custom-data key="point1"]Scatter shot feature - once the crossbow pings an arrow across the grid, an additional symbol will shapeshift into a scatter. The arrow will also grace all high-paying symbols and offer up multipliers ranging from 10x and 100x your bet
Is Blood Suckers Any Good?
For a 2013 release, Blood Suckers is still a game with a lot to offer players. True to form, NetEnt's created a slot that's graphically on theme and thoroughly researched. This is testament to the slot producer's attention to detail and - more importantly - attention to fans of the vampire genre.
Sure, the 1,000x win potential isn't going to raise the dead, but the free spins round isn't overly elusive and therefore does the gameplay heavy lifting. These days, it's rare to see a low volatility slot that still engages as actively as Bloodsuckers slots.
If you were hoping for a more Twilight-style outing featuring the pasty 'n' tasty Edward Cullen, you're going to be disappointed with Blood Suckers from NetEnt. This particular slot outing draws from a vein of more old-school vampire inspiration, instead starring Hammer Horror characters and personalities that line the pages of countless books about Dracula and the wider world of vampires.
Pure escapism, Blood Suckers is both gorgeous and a devilishly fun game to play. If you're a fan of Blood Suckers, you'll also undoubtedly enjoy Blood Suckers 2. Should you have trouble deciding which slot to play, the question you need to ask yourself is: which Blood type are you?
Read out latest review of the Dracula slot at the 32Red Blog. Love the Dracula Slot at 32Red Casino? Then use your brains and be sure to try the equally gruesome Zombies slot at 32Red Casino.